1. Marco Ristori & Luca Boni (Interview)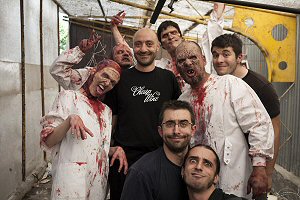 Xavier Desbarats : Marco and Luca, you are the directors of EATERS who's scheduled for a 2011 release. What did you do before and what's your professional background ?
Marco Ristori & Luca Boni : Hi guys, first of all thanks for this interview. We own a production and post-production studio (Extreme Video) since 2005. We have done everything... music promos, documentaries, commercials and even weddings at the beginning of our career but PLEASE don't ask us about those days...!!! Jokes apart, we work a lot in the independent videoclips' world.
How did you got the idea to produce a full length movie like EATERS ?
The truth is that we were a little tired of doing the same things all the time and we wanted to try something more personal. One day, we were in the Extreme Studios talking about what we could do and at the end of the day we said : "Why don't we try to make a movie?". It was the beginning of 2008...
What is the cost of EATERS ?
We tried hard to find financiers or producers, but here in Italy, it is impossible to do something like EATERS. No one wants to put money in projects like this so we decided to produce the movie with our studio and our money. We know, it sounds crazy but it was our only way out. Luckily, we found some friends who helped us, and Eaters became an associate production. But believe us, you wouldn't believe how much we've spent for it !
The first teaser of EATERS was released one year ago. How long took the making of EATERS ?
We wrote the first script in 2007 and decided to make the movie more than two years ago but the pre-production started last year in September. The pre-production took more than six months because it's really difficult to do things like this without money...We spent almost three months looking for locations, getting permissions and stuff like that. We shot the movie in one month but without that crazy pre-production, it wouldn't have been possible at all ! We had almost ten different great locations... It's been a real massacre!
Before and during the EATERS production period, you have made some video clips. Some are available online. In your opinion what's the difference between the making of a short movie, a clip video and a full lenght feature ?
When you do a full length movie, the other stuff seems to be soooooo small. We made more than twenty videoclips and we're carrying on doing it, but now everything is easier 'cause NOTHING can compare to a low budget movie like EATERS... You can easily shoot a videoclip in a couple of days with no more than one week of pre-production and post-production. A full length movie takes much more than that. You live for it, eat for it, shout for it, sleep (a little) for it.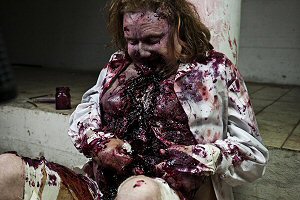 Visually EATERS seems very well crafted and it seems that you have an excellent special effects and make-up crew. Can you present them to us ? About the make-up, did you take a realistic approach or something more imaginative ?
The biggest strength of EATERS is the zombies special make-up. We had and amazing FX crew (Carlo Diamantini, David Bracci, Enrico Galli) that has done impossible things to make us satisfied. The more we asked, the more they made. We wanted to have zombies and FX that no one ever saw in an Italian movie, so we preferred to have less zombies but all with amazing prosthetic make up. We have a couple of zombies that will really leave you breathless !
Luca, I saw that you have some talents for engraving. Your works are really dark, contrasting and tormented. Did you put this influence into EATERS especially in the filming and the composition of the frame?
I was a student at the Academy of Fine Arts in Florence, I got my degree there. I love to paint but there's no real connection between my works and EATERS. My engravings are way darker than EATERS which is actually a fun movie ! Anyway, we shot a sequence with a couple of my paintings in the background.
Did you used some digital effects ? For what kind of scenes ?
Yes, we did! There's a lot of CGI in Eaters. CGI is very helpful when you work without money... We did every single visual effect by ourselves in the Extreme Studios, so we saved A LOT of money (and lost A LOT of brain too!). In EATERS, there are a lot of compositing, shots, blood squirts an stuff made in post-production.
When we talk about Italian zombies, we usually think about Lucio Fulci but also Umberto Lenzi, Bruno Mattei or Claudio Fragasso. Mainly directors who bring dead to life during the 70s and the 80s. What's your opinion about the heritage of the horror italian cinema ?
Well...we know and appreciate that cinema, but at the same time we want to move away from that "old school". We prefer to look ahead. In our opinion, one of the reason of the decay of our genre cinema is that too many Italian directors take too much from the 70s and 80s. With EATERS we prefer to follow the rules of US zombie movies and action movies of the 80s and 90s, but with our personal point of view. We put together horror, comedy and action. Italians are too serious...
Do you think that the culture of the directors of today from all around the world is shaped from the influence of their own countries/continent, or it's more a multicultural influence ?
As we told you, we preferred to give EATERS an international soul. We love American and European zombie movies more than Italian ones. We really love recent zombie movies like DOGHOUSE, ZOMBIELAND, LA HORDE, and EATERS is closer to them more than to the Italian tradition. And don't forget that we came from videoclips...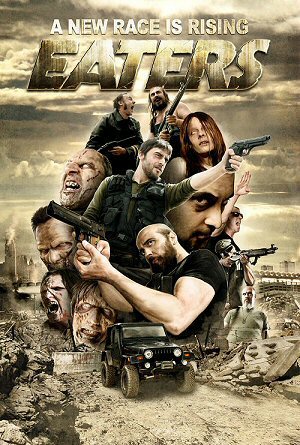 Why did you choose to make a living dead movie ? Aren't you afraid that your movie will be drowned among all others living dead movies ? What's your assets and qualities who can make the difference ?
We love living dead movies ! This is the first reason why we decided to make EATERS. We really don't know if EATERS can make the difference but we tried to build a good story with good characters. Besides, our zombies are talking...
For an Italian movie, how did it happen that Uwe Boll, a German, was attached to EATERS ? When the trailer of EATERS was released on the net, Uwe Boll has started very quickly to communicate about it on the social network. He seems very close to this project ? What's his role on the making of a movie like EATERS ?
We've been lucky ! No, seriously, we're very proud to have Uwe and his crew by our side. Without him we wouldn't have made the movie. Despite what all detractors say about him and his movies, Uwe is a gentleman, very smart and very interested in independent projects like EATERS. By the way we heartily recommend to those people who keep on throwing mud against him to watch movies like TUNNEL RATS, STOIC, SEED, POSTAL, IN THE NAME OF THE KING, BLOODRAYNE... Uwe likes our style and follows the project since the very beginning. He always told us that he would distribute the movie and now, after more than two years, EATERS is in Boll World Sales catalogue...This is the proof that Boll is a sincere guy and a serious business man. We really don't care about what they say about him, we know the truth and this is enough...Without his support we wouldn't be here now.
Did you already got some deals for the release of EATERS all around the world ? For Specific countries ?
Yes we did. In Japan, Benelux, Germany, Uk, Australia and Russia, all sold by Boll already... Anyway EATERS will be at the AFM 2010 in Los Angeles with Boll AG.
How do you see the "After EATERS" ? I mean have you some other projects on the way ? Still working together or are you thinking about directing in solo ?
Well... EATERS is not finished yet... We still have to finish the post production but we're already thinking about the future... We would love to produce another movie next year but the only thing we know for sure is that we'll keep working together.